Quality, Change & Improvement Management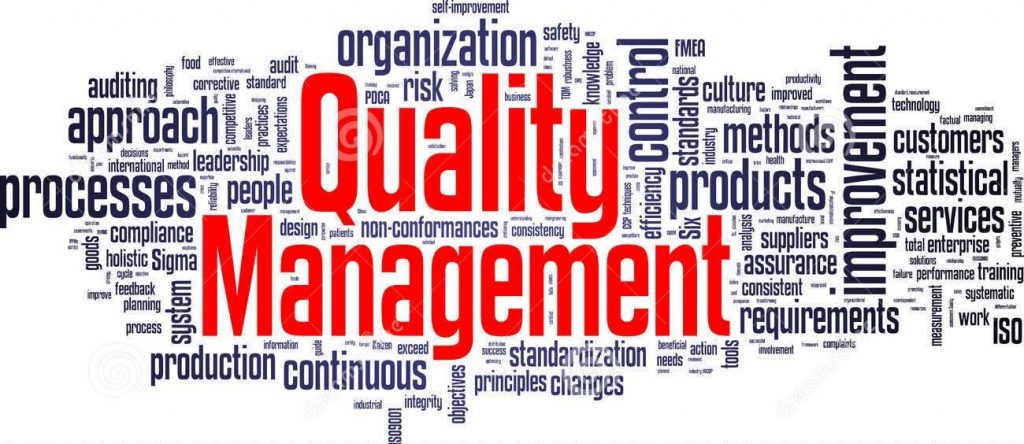 elias ghaleb — In the face of challenges and competition in business world's sector, which doesn't aim to assure only a good quality and services, that can be offered to customers, but also the means to achieve it by ensuring that a good organization's hierarchy, management and decisions are consistent with efficiency, under the revolution, control and creativity of quality planning.
It's important to establish a strong human resources; managers, leaders and workers, that will lead and hold the process approach and all internal tasks of a good quality management, because people at all levels of an organization are the main factor of all this process to be done. They work to complete involvement that enables their abilities and experience to achieve goals, including mission and vision with sustainable huge positive results. In addition, continual improvement or a continuous improvement processes is one of the permanent quality objectives and ongoing effort within an organization that should be always seek incrementally over time based on raising the level, focus and aim to improve services and processes, with the consideration of a good constantly, evaluated and improved delivery for valued customers in the light of serving better.
So in other term, improvement is not only about using a set of tools and techniques. rather than, is a result, so it can only be claimed after there has been a beneficial change within an organization. for this reason, all managerial activities, either direct or indirect, by applying a change or creating it, are so important that will keep the business in a competitive edge. So every system, program or project should be involved to have provision for an improvement cycle, by determining the current performance based on analyzes and statistical information results, establishing a need to improve by studying in deep the requirements and budget, adjust commitment and define the improvement objective, organize the diagnostic resources by defining the test solutions that will accomplish the improvement objective, produce plans which specify and select people that should be involved to do the tasks and under which conditions and rules, resistance the fact of the change in order to implement and have a good achievement result.
No one in the organization, from top to bottom in the hierarchy pyramid, is exempt from the responsibility for such improvement of knowledge management. Furthermore, no one is expected to do this without a help and support from others. Because to do such evolution, we need to help executives to figure out the best way to manage and lead, by taking the right decision, planning the clear map and selecting the right people inside. All of these can be accomplished by breaking the barriers between departments, learn their responsibilities and take on leaderships management by supervising to do a better job.
Knowledge management with the force of making businesses, and reorganize structures, involve in a direct way a radical changes in attitudes and behaviors to identify an opportunity to improve, by resisting the fear of change and reporting problems to learn more, because dealing with failure is the fact of redoubling efforts and a long term strategy to change behavior, therefore persistence and extra imaginative effort is the main key.
Reorganizing the challenges ahead, businesses of all sizes within the whole organization will be making by reaching changes on all levels, machines and human resources. These will focus on integrating excellence with enormous potential. By doing the right things at the right time, reporting directly to managers will help in creating a new kind of organizations, in order to survive in market turbulence, to satisfy the valued customers and accelerate the pace of improvement in all functions.
Moreover it's recommended to adopt new types of measuring tools, to lead the counterproductive results that will trace day to day activities to produce a benchmark to business needs. Essential for survival in the future will be a system that does more than just monitor overall operations for management. It should also provide the entire workforce with information and data that can be used consistently up and down the line to make sure that all performance directly supports corporate strategies and become a target for corrective action.
Nowadays organizations, are mired in busywork that limit their ability to think to have long term mission and vision, where other companies of tomorrow must learn actively by imagining future's possibilities and create scenarios to act on them. these organizations should challenge themselves to envision the right business and to have the ability of asking smart and often unsettling questions by encouraging curiosity, new ideas will be revealed to improve the current offerings and state, because the quick and obvious strategy will not survive the offensive and aggressive competition.
Keeping pace with change is a challenge, to meet the current goals despite surprises that might be shown and affect our aim, this will help in building on agility and to learn overcoming barriers by change the impossible to possible. The business world is at a critical inflection point and to compete in tomorrow's market, organization must demonstrate more than knowledge or technical expertise, they must cultivate new skills, sets and features.